Add Your Heading Text Here
As a society, we rely quite heavily on our consistent and widespread access to electricity. Whether it's powering our homes, our cars, or our businesses, electrical power is a high priority for the reliable functioning of society on a day to day basis. Our country has a widespread electrical power system, with power sourced, and then dispersed through an interconnected network of towers and lines. This electrical network is what makes this constant access to electrical power possible. 
But what happens when this reliable access is shut off or unavailable? Power outages are inconvenient at best, and truly dangerous at worst, and generally we only understand how much we rely on our access to electricity when we lose that access. When we lose power, it's one of the highest priorities to get power back on, as well as determine how to avoid it happening again. That's where RMC Contracting comes in. In addition to providing a variety of high-quality telecommunication tower service and repairs, our Electrical Division specializes in everything from simple grounding repairs to service upgrades. Keep reading to learn more about the Electrical Division at RMC Contracting, and how we can provide for you.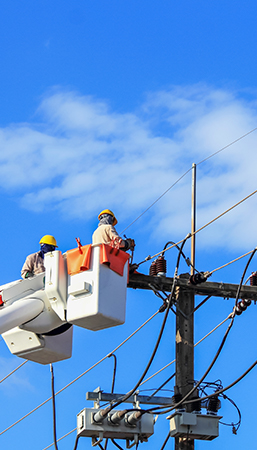 Electrical Repair Services
Just like the network of cell towers that populate our country's landscape, a network of electrical towers and power lines run generated electrical power from a central hub, to commercial and residential areas all over the country. These hubs are organized in a grid over the U.S., divided up into different interconnection hubs that service different parts of the country, with the Eastern and Western Interconnections covering most of the contiguous United States. Just like the network of cell towers, these electrical towers and power lines require monitoring and persistent servicing if they are going to continually and reliably provide electric power to all.
That's where reliable contracting tower services like RMC Contracting comes in. In addition to our telecommunication service teams, RMC Contracting also provides an electrical crew that specializes in electrical tower service and repairs. Our tower technicians have a large amount of experience climbing towers and servicing them all over the country, and the teams in our Electrical Division have a plethora of electrical service experience as well. From service upgrades to generator installs, our electrical division can provide a variety of electrical services to your electrical network.
Electrical System Maintenance from RMC Contracting
The crews in our electrical division specialize in all types of electrical services. With the combined experience and knowledge of our in-house electrical crews, we can provide service, maintenance, and repairs on any electric system. We service commercial power grid lines, as well as residential ones including grounding repairs, rewires, and electrical service upgrades. In addition, we also offer generator installs and change-outs of broken or defective components. Our tower technicians have been providing these levels of high-quality electrical service for years now, and we are committed to providing these services to any situation or location that needs it. If you have an electrical problem, RMC Contracting can help. Contact us today to learn more.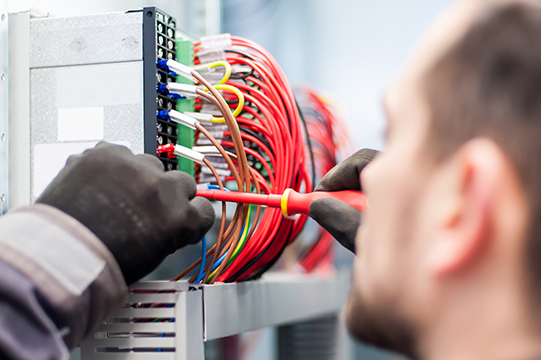 RMC Contracting Electrical Division
As you can see, a reliable network of electrical power is invaluable in the modern day. When we flip light switches, we expect that lights to come on, and when we plug in our phones, we expect them to charge. But as reliable and effective as our access to consistent electrical power can be, sometimes those connections are in need of servicing and repair. As reliable as they are, they brave the elements every day, while constantly providing electrical power to our businesses and homes, and sometimes, issues arise.
Luckily, there are teams of brave and dedicated men and women, like the Electrical Division crews at RMC Contracting, that have committed their lives and their careers to finding and providing the solution for these issues. Whether it's a power line in your neighborhood or a transformer that is the key to providing electrical power to a whole town, our experienced electrical teams will work tirelessly to find the right fix, as well as improve your overall electrical system and mitigate the likelihood of the issue occurring again. Give us a call now, and see how our team can start helping you and your company today!